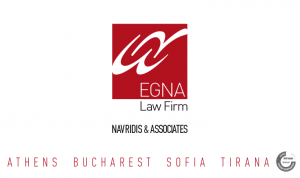 We are committed to recruiting, developing, advancing and retaining the best legal talent.
Selecting a law firm that will both stimulate and support your growth as a lawyer is a critical step in your personal and professional development.
The Bucharest office of EGNA Law Firm Navridis & Associates office is seeking for a lawyer with minimum 1 years of experience in litigation.
The candidate should have strong academic credentials and prior work experience, preferably within an international law firm; fluent English it is a must (professional knowledge of another foreign language and relevant work experience would be a plus).
The litigation activity will include mainly the assistance and representation of our clients in disputes consisting of abusive clauses and enforcement procedure.
Why EGNA LAW FIRM E.G.NAVRIDIS & ASSOCIATES?
We are an INTERNATIONAL law firm with an enterprising strategy and real momentum. The work we are winning and the places we now reach have created a widespread international platform. And we are striving for more. We are committed to providing excellent client service, fostering a culture of cooperation and mutual respect and creating opportunities for lawyers of all backgrounds.
Our shared values define our culture and our workplace. As an experienced lawyer, you will find us to be unusually collegial, team-oriented and ready to innovate.
QUALITY. UNITY. INTEGRITY.
We have one global set of business principles that guide behavior and ensure that the business operates to the highest standards. We must be a world class business, profitable, ambitious, cooperative and considerate, supporting our clients and people through our principles of Quality, Unity and Integrity.
They describe our culture and personality both internally and externally―the way we work and what we stand for:
UNITY
– we operate in a team culture, collaborating and sharing information and knowledge across disciplines and markets to achieve the best results for our clients;
– we value our culture and work hard to preserve it.
INTEGRITY
– we value our people—they are our most important asset—and we promote a culture of respect for the individual;
– we expect to deliver work that meets the highest professional, ethical and business standards;
– we build long-term relationships with our clients and colleagues by being trustworthy, open and fair.
Please submit a letter of interest and a current resume in English by e-mail to: daphne.grama@navridis.com
Anunțul este valabil pentru municipiul București.
* Anunțul expiră la data de 3 aprilie 2019