BDO Business Restructuring is looking for an experienced legal consultant.
Join as an Experienced Legal Consultant/ Lawyer and start mixing law with business!
Succeeding in this role requires strong analytical thinking, enhanced with attention to details and careful planning. You need a mature and responsible approach to professional tasks, as well as integrity and determination.
We train your mind and your spirit because we know that professional competence needs good energy and attitude.
Send your application for Legal Consultant/Lawyer today at: career@bdo.ro
We are eager to meet you as soon as possible.
Job domain: Business Restructuring
Career level: Experienced Professional with 3 years of experience
SHORT DESCRIPTION
As a Legal Consultant/ Lawyer in our Business Restructuring team you will be encouraged to get involved in dynamic and complex activities, such as:
– manage the insolvency proceedings;
– complex legal research and analysis, with conclusions and recommendations;
– drafting legal documents (contracts, verbal processes for tenders or auctions, and other);
– investigate and report to the court;
– managing project and client related correspondence and meetings;
– participate at auction commission/ negotiation;
– ensuring contact with law courts and other public authorities;
– monitor the litigation for debt recovery;
– debts recovery operations and/ or drafts action for annulment of acts performed by the debtor to the detriment of creditors.
REQUIREMENTS
– law graduate (membership of the Bar Association / Insolvency Practitioner);
– solid knowledge of civil and procedural law;
– insolvency exposure is a major plus; 2-3 year of legal experience (including litigation related activities) is required for the role;
– good command of English and MS Office;
– planning and organization skills, result and deadline oriented;
– availability to travel;
– business awareness and a keen interest in developing business related expertise.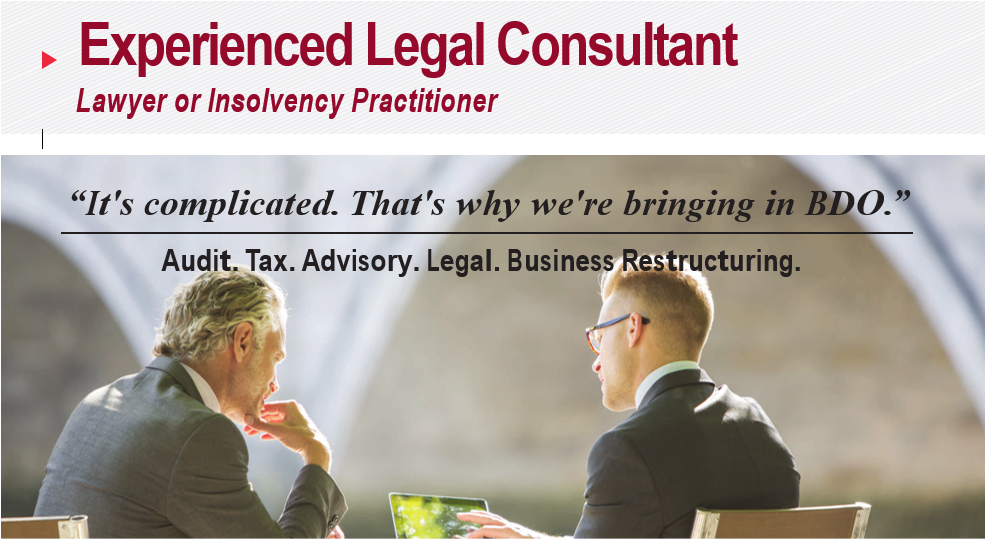 WHY BDO?
We provide you an environment where you can be successful in the following ways:
– grow your expertise through professional development & ongoing learning experiences (including international certifications);
– perform financial analysis for clients from various fields of activity;
– be part of a growing team that help you to be the best professional you can be in our services;
– be a key contributor to the success and growth of the firm.
By applying to this job post, you are giving BDO Romania your consent to process the data provided in your Curriculum Vitae. We mention that your data will be used exclusively for conducting the recruitment process and to possibly conclude a contractual collaboration. If your application is not successful, BDO Romania might keep your personal data for future employment opportunities for which you may be suited. All your data will be treated with confidentiality, in accordance to EU Legislation 2016/679 and you have the right to contact us anytime at privacy[at]bdo[dot]ro to withdraw your consent for data processing or to correct/modify/delete the data provided.
Anunțul este valabil pentru municipiul București.
* Anunțul expiră la data de 5 martie 2021