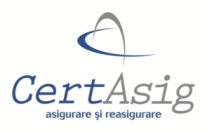 CERTASIG INSURANCE & REINSURANCE CO. is a Romanian specialist non-life insurance company primarily selling niche, non-motor insurance products to corporate customers through insurance brokers.
Since December 2007, CertAsig has been majority-owned by Royalton Capital Investors II, a private equity fund focused on acquiring and developing service sector companies throughout European countries of Central and Eastern Europe. Royalton Capital Investors II L.P.'s limited liability partners include Alpha Associates, European Bank for Reconstruction and Development (EBRD) and European Investment Fund (EIF).
We are currently looking for a qualified legal counsel to join our Bucharest legal team.
The suitable candidate will have at least 3 years of experience in insurance law, corporate law and commercial litigation.
We require very good litigation knowledge, advanced knowledge of English language and also to be available for some business travels.
Working as part of a small legal team, you will report directly to the Head of Legal Department and you will support the business in relation to all internal legal issues.
Handling claims and disputes will represent a significant part of your activity; nevertheless you will have to provide day-to-day legal advice in many areas like: commercial law, litigation, corporate matters, insurance regulatory compliance, public acquisitions, employment law, etc.
Candidates are requested to submit their CV (in English only) to the following e-mail address: hr@certasig.ro
Anunțul este valabil pentru municipiul București.
* Anunțul expiră la data de 18 mai 2018