TUDOR, ANDREI & ASOCIAŢII is looking for an attorney at law.
Looking for a new challenge in your legal career?
Join us and work as an Attorney for a growing law firm, providing professional and qualified legal services.
You will find a friendly working environment and a management approach that allows everybody to participate and share ideas.
At BDO we are focused on EXCEPTIONAL CLIENT SERVICE and you will have the opportunity to be the best in your area of expertise.
We count on your INTEGRITY, ACCOUNTABILITY and commitment to the team because we strongly believe Relationships Matter.
We train your mind and your spirit because we know that professional COMPETENCE needs good energy and attitude.
Come and meet us! Join TUDOR, ANDREI SI ASOCIATII in association with BDO Romania and let's make a difference in legal consultancy!
Send your application for Attorney at Law at career [at] bdo [dot] ro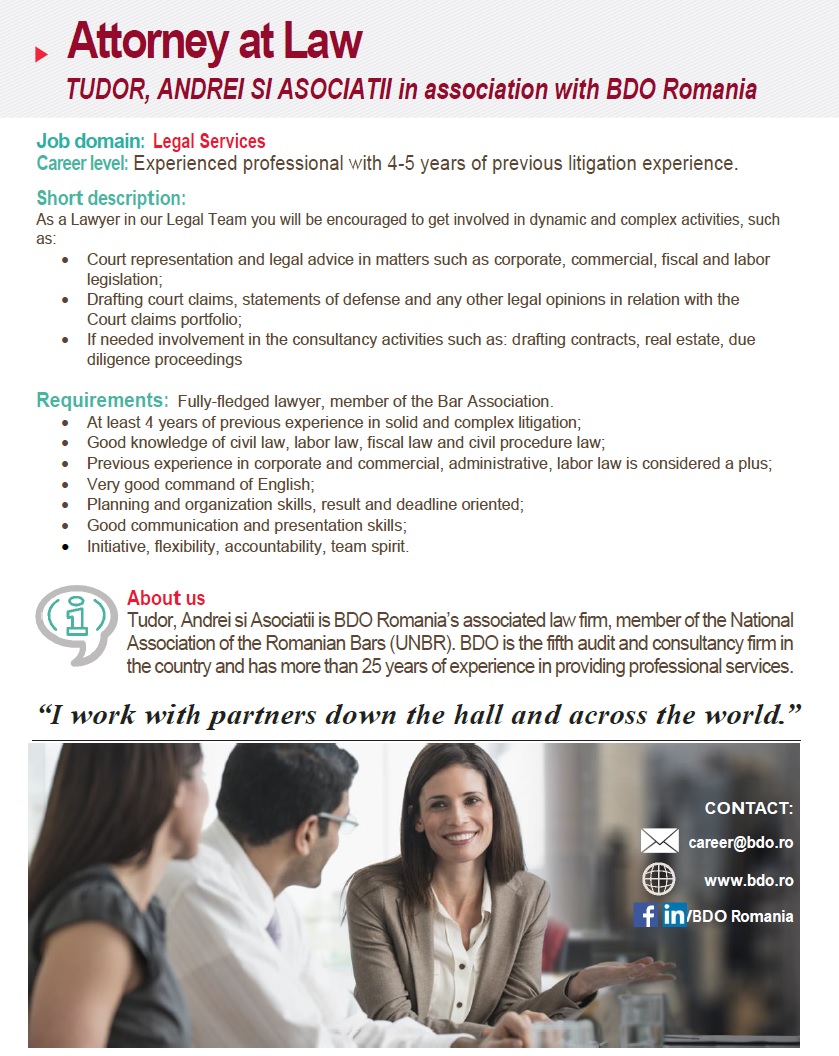 By applying to this job post, you are giving BDO Romania your consent to process the data provided in your Curriculum Vitae. We mention that your data will be used exclusively for conducting the recruitment process and to possibly conclude a contractual collaboration. If your application is not successful, BDO Romania might keep your personal data for future employment opportunities for which you may be suited. All your data will be treated with confidentiality, in accordance to EU Legislation 2016/679 and you have the right to contact us anytime at privacy [at] bdo [dot] ro to withdraw your consent for data processing or to correct/modify/delete the data provided.
Anunțul este valabil pentru municipiul București.
* Anunțul expiră la data de 1 octombrie 2018