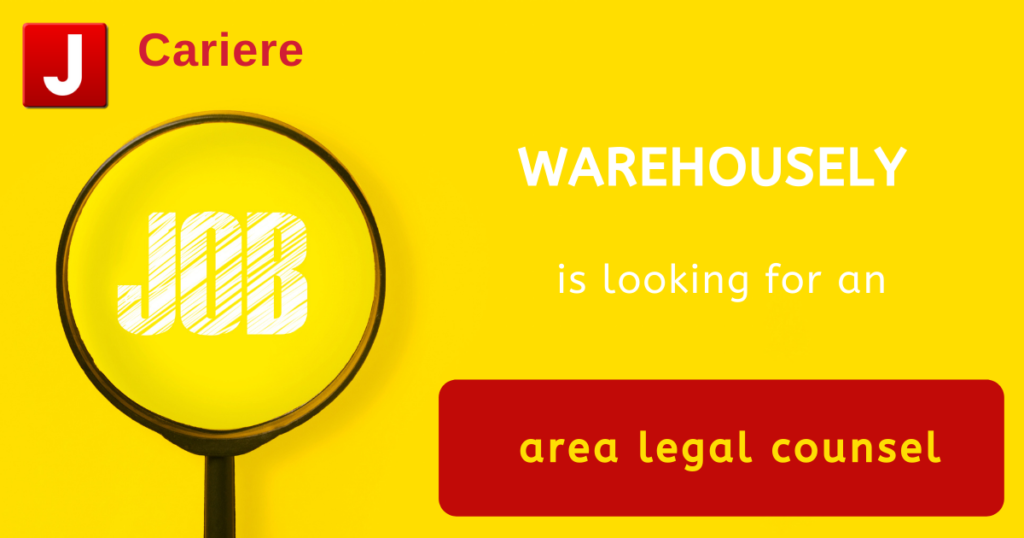 WAREHOUSELY is looking for an area legal counsel | Part time.
QUALIFICATIONS/ EXPERIENCES/ ABILITIES
– university degree in Law;
– at least 1 year experience in any legal activity;
– experience with commercial law labor and consumer law or experience with cosmetic or food legislation is a great advantage;
– experience in communication with authorities is an advantage as well;
– English & Romanian at a level enabling professional work, including subject terminology;
– computer literacy: Word, Excel, Power Point;
– developed logical and abstract thinking;
– the ability to look at things in context;
– ability to consider the economic implications of the application of law;
– ability to find solutions not only to name the problems;
– ability to communicate with colleagues in a remote team;
– willingness to work abroad time to time.
MAIN RESPONSIBILITIES
– responsible for the implementation of relevant legal regulations, legal advisory and assistance of the company in the entrusted area;
– responsible for the preparation of legal documents and their compliance with the law;
– responsible for the timeliness and quality of the legal analyses created;
– responsible for representing the company in case of a dispute or other proceedings;
– responsible for monitoring legislative changes and developments in the entrusted region/ area;
– communicates with local and foreign law agencies and administrative authorities.
TASKS/ ACTIVITIES
– ensures compliance of the undertakings in entrusted area (Romania, in future potentially Bulgaria or Hungary);
– provides legal advice especially for different departments (eg: logistic, retail, HR);
– provides legal advice in the areas of commercial law (contract, corporate and competition) and intellectual property/ labor law and consumer law;
– performs revisions and drafts of employment/ business contracts and other legal documents (work regulations, business conditions, powers of attorney, etc.);
– represents the company in front of authorities regarding legal aspects and business associations;
– provides legal support in business negotiations or in relations with customers and employees;
– creates legal analyses for individual queries within the company;
– communicates with courts, administrations and third parties;
– monitors relevant legislative changes in the entrusted area;
– supports corporate governance
– performs other tasks according to the requirements of the superior.
WHAT WE OFFER
– flexible working hours;
– hybrid workplace;
– base salary + quarterly bonusses;
– other benefits;
– experience that goes beyond the Romanian law;
– opportunity to try new things and to extend your expertise;
– support for further learning and development;
– work in an international and dynamic environment.
Warehousely is a company that offers logistic services exclusively for Notino.
Notino is one of the leading companies in e-commerce in the beauty sector in Europe. We're not afraid to be ambitious about our goals, and that´s why we grow quickly. We at Notino believe that beauty should be accessible to anyone because it has the power to give confidence and transform people. When people feel beautiful, they find it easier to achieve their goals and make the world around them more beautiful.
Founded back in 2004, Notino has quickly established itself as a trusted beauty online shop for cosmetics, fragrances and personal care products. In just over a decade Notino has expanded into 28 different countries and its workforce has grown to almost 1600 people accross the Europe.
Notino's growth and expansion has not gone unrewarded. The company was included by the prestigious accounting firm Deloitte in the "Deloitte Technology Fast 50 in Central Europe" program, which highlights the 50 fastest growing technology companies, both public and private. Notino received this recognition in 2013 and 2014, as well as being nominated in the Deloitte Technology Fast 50's "Big 5" category.
If you are interested, please send your CV to: hr@warehousely.ro
All applications will be treated with strict confidentiality.
Anunțul este valabil pentru municipiul București.
* Anunțul expiră la data de 13 aprilie 2022