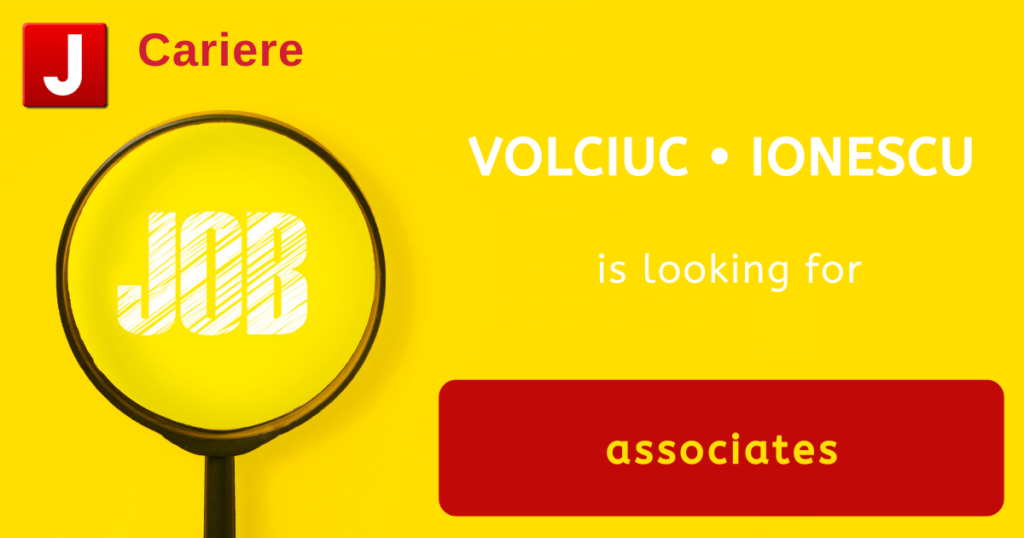 VOLCIUC • IONESCU is looking for associates to join our team (1-4 years of experience)!
IF YOU
– have relevant experience in corporate/M&A, data privacy, employment and/or IPT;
– are fluent in English;
– are eager to be a part of the world of transa ctional business law in a supportive team,
you may be our new colleague!
Send your CV to hr@volciucionescu.com
We are offering great opportunities for career growth, a fun and easy to work with team and attractive compensation.
We are looking forward to meeting you!
Please kindly note that only selected applicants will be contacted.
ABOUT VOLCIUC • IONESCU
Founded as a spin-off of several lawyers led by the heads of the energy, finance and projects teams of a global international law firm, Volciuc-Ionescu is an independent Romanian law firm that strives for excellence and guarantees fast and flexible specialised services, recommended as a leading firm by the international legal directories (Chambers Global, Legal500 and IFLR1000). Our main objectives are to build long-term working relationships with clients (traditionally, financial institutions, global corporations and local champions from key sectors of Romania) and to offer a high level of quality and efficiency in all legal matters we work on.
Anunțul este valabil pentru municipiul București.
* Anunțul expiră la data de 17 iunie 2022