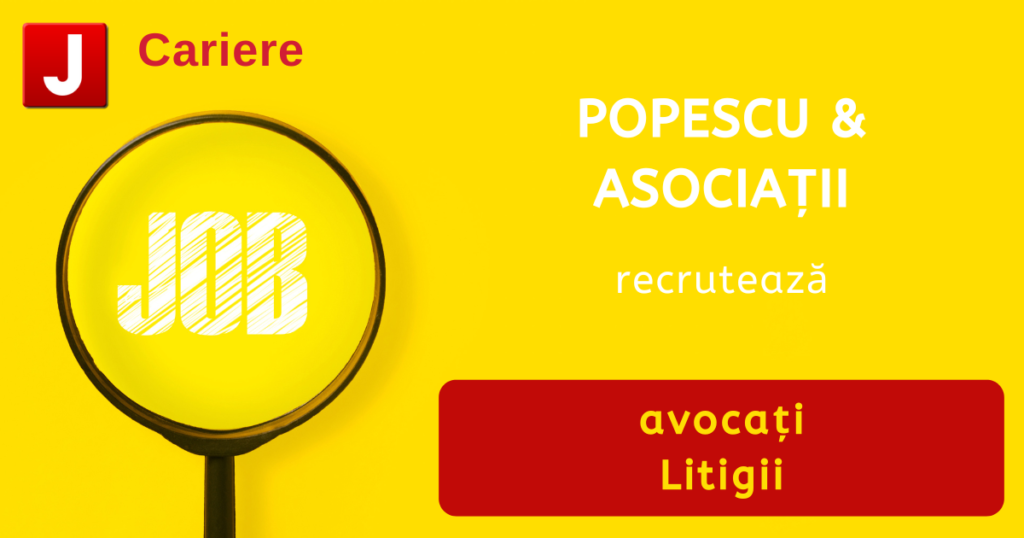 POPESCU & ASOCIAȚII recrutează avocați litiganți.
VIITORII NOȘTRI COLEGI
– au minim 4 ani experiență în domeniul litigiilor;
– experiența într-o societate de avocatură de notorietate reprezintă un plus;
– cunosc bine limba engleză – scris și vorbit (cunoașterea unei alte limbi străine este un plus);
– au abilități de negociere și de a gestiona mandate complexe;
– se pot organiza și își pot gestiona timpul în mod eficient;
– au o atitudine proactivă, lucrează bine în echipă, sunt flexibili și se adaptează ușor.
DE CE SĂ ALEGEȚI ECHIPA NOASTRĂ
– aveți șansa de a lucra în mandate și dosare complexe pentru companii cunoscute, alături de avocați recunoscuți de directoarele juridice;
– oferim un mediu de lucru plăcut;
– avem o echipă tânără, dar cu experiență vastă;
– veți primi o remunerație atractivă, în baza performanțelor;
– avem biroul amplasat central, la doar 5 minute de mers pe jos de stația de metrou Piața Victoriei.
DESPRE NOI
POPESCU & ASOCIAȚII este firma de avocatură din prima linie, cu experiență dovedită în consultanța juridică, precum și ariile litigiilor și dreptului penal. Societatea și avocații săi sunt clasați în toate clasamentele directoarelor juridice prestigioase precum Legal 500, Chambers & Partners, IFLR 1000 și Benchmark Litigation.
POPESCU & ASOCIAŢII a obținut, în iunie a.c., titlul Eastern Europe Firm of the Year în cadrul Women in Business Law Awards 2023 de la Londra.
De curând, casa de avocatură a fost nominalizată pentru titlul de Law Firm of the Year din Sud-Estul Europei în cadrul The Lawyer European Awards 2023, fiind singura firmă independentă din România aflată pe lista scurtă. În 2022, pentru al 2-lea an consecutiv, compania a primit titlul de cea mai apreciată firmă de avocatură (Highly Commended Law Firm) din Sud-Estul Europei în cadrul aceleași Gale londoneze, The Lawyer European Awards, fiind prima firmă de avocatură din România, cu mai puțin de 3 ani de activitate la momentul acordării premiului în 2021, care a obținut această recunoaștere, poziționarea în clasament vizând o categorie regională, dominată de nume cu rezonanță în avocatura europeană.
De asemenea, societatea a fost premiată pentru ariile de practică Litigii și PPP în cadrul Galei Romanian Legal Awards 2023 și cu trofeul Firma Anului în Avocatură în cadrul aceleiași Gale, ediția 2022.
În cadrul Galei Avocați de Top 2023 echipa de Litigii a primit Premiul special "Excelență în Dispute Resolution".
Dacă doriți să faceți parte din echipa noastră, așteptăm CV-ul la adresa cariere@popescu-asociatii.ro
Anunțul este valabil pentru municipiul București.
* Anunțul expiră la data de 27 octombrie 2023