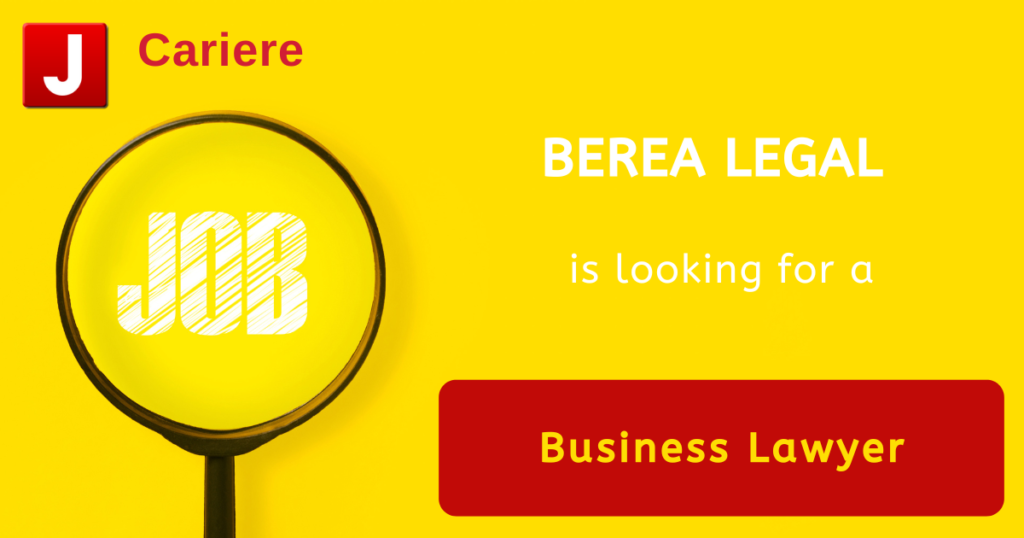 BEREA LEGAL is looking for a Business Lawyer.
If you are a passionate & constant learner lawyer, client-centred and committed to a long-term approach, you're about to find your next career opportunity.
JOB BRIEF
We are looking for a highly qualified Business Lawyer specialised in General Corporate, M&A and Labour law. Expertise and knowledge in Consumer Protection, Information Technology and/or Data Privacy would be a plus.
You will provide legal advice in relation to our clients' day-today business and operations. The successful candidate will seek to identify the best solution for our clients, as to ensure legal conformity and minimize the probability of risk exposure.
RESPONSABILITIES
– providing accurate and timely advice in a variety of legal fields (corporate, M&A, labour law, corporate finance, etc.);
– collaborate with the other attorneys to identify the best strategy and legal approach;
– drafting and reviewing contracts and other legal documents, to ensure client protection and legal compliance;
– performing legal and doctrine research;
– drafting memorandums and legal advice for clients;
– apply effective risk management techniques and offer proactive advice on possible legal issues;
– communicate and negotiate with external parties (regulators, external counsel, public authority etc.), creating relations of trust;
– deal with complex matters with multiple stakeholders.
HOW YOU WILL KNOW YOU FIT THIS SPECIFIC ROLE
Here are 3 main rules of thumb to help you decide if it's worth investing your time in this opportunity:
– you are solution-driven, you focus on understanding the logic of a situation, instead of strictly quoting from the law;
– you have a good discipline in doing your research for different cases and you do the follow-up for all the open actions on your work board;
– you enjoy interacting with the clients directly and you listen before giving any advice.
QUALIFICATIONS
– be a definitive member of the Bucharest Bar with 2-4 years of experience;
– have experience in business consultancy law;
– have in-depth knowledge of the national and European legislation;
– have a solid practice in corporate/commercial law;
– have excellent command of English. Another language is a plus (e.g. French or German language);
– pay attention to the client' needs and interests;
– be organised and structured;
– have capacity to work autonomously and to coordinate with other colleagues;
– have the ability to manage complex cases;
– have a positive attitude;
– be a team player;
– have deep awareness of the confidentiality duty;
– have a high degree of professional ethics and integrity.
WHAT YOU WILL GAIN
– become part of an entrepreneurial and hard-working legal team with good reputation for its long-term partnership and approach, legal advice, negotiated deals and drafted contracts;
– work for a boutique law firm and with a great national and international client portfolio, on complex corporate, M&A, consumer protection, data protection and regulatory matters;
– work alongside experienced lawyers who are willing to share their knowledge and expertise to allow you a growth in a career, in the field of Information Technology, FMCG, Banks and Financial Institutions, Transportation, Industrials, Energy & Natural Resources;
– client exposure;
– opportunity to become a voice of the Romanian legal market and gain experience in various essential fields.
THE COMPANY – BEREA LEGAL
We are a full-service boutique law firm, offering top quality legal services to our clients based on our previous experience deriving from significant cross-border matters, covering corporate, M&A, data privacy, contracts, consumer protection and regulatory matters.
By associate the commercial insights gathered from our previous engagements, with the specific legal expertise acquired in Magic Circle Law Firms, as well as in highly ranked Law Firms from the Romanian market, we offer agile and practical solutions according to the clients' needs.
We have been assisting clients from national and international companies activating in a broad range of industries, such as Private Equity, Technology, Oil and Gas, Fast Moving Consumer Goods, Real Estate, Roads and Railway Infrastructure and Transportation, Tourism.
Additionally, our legal assistance usually starts upon the clients' entry on the Romanian market and extends throughout their overall operations, as our main goal is to build a long-lasting partnership, rather than one-off assignments.
Our founding lawyer, Iulia Berea, is a member of the Romanian Union of Lawyers and of the Romanian Bar Association since 2004. Before establishing her own law practice, she was a founding Partner of a prestigious Romanian law firm, where she co-headed the Corporate and M&A and the Labour Department. Previously, Iulia Berea has been an associate with the Bucharest office of a Magic Circle Law Firms.
If you fit the description, please send your CV to the following e-mail address: office@hatwit.com
Anunțul este valabil pentru municipiul București.
* Anunțul expiră la data de 15 septembrie 2022