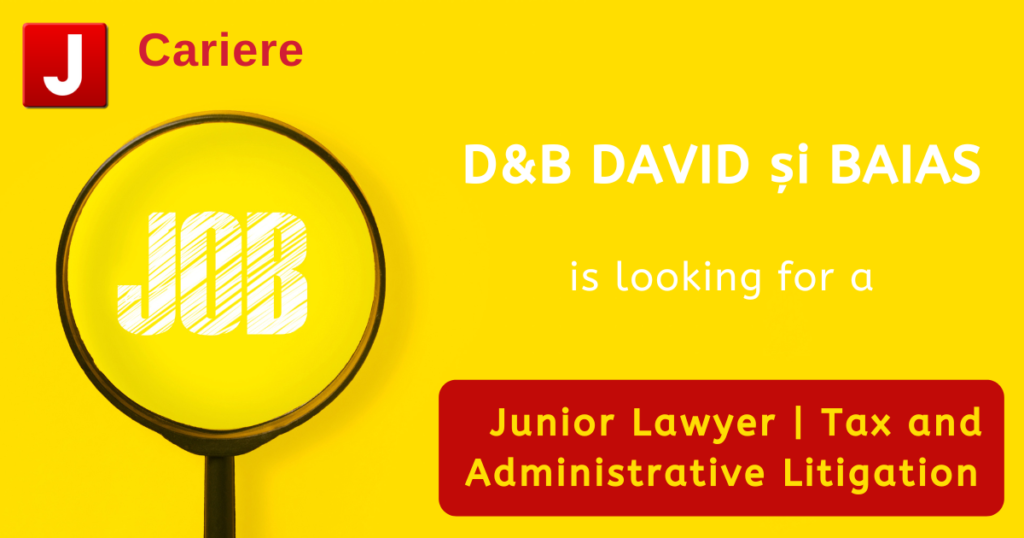 D&B DAVID şi BAIAS is looking for a Junior Lawyer to join our Tax and Administrative Litigation department.
IF YOU
– would like to be part of a dynamic and fun-to-work-with team;
– are smart and creative;
– are willing to learn and develop every day while working on very interesting projects;
– have an interest in administrative and tax matters, we would love to receive your application.
WE OFFER
– attractive rewards and flexible working arrangements;
– access to interesting local and cross-border projects for high-profile clients;
– an international working environment and a friendly work atmosphere;
– continuous coaching & mentorship;
– the chance to work in a professional environment, exceptional opportunities for career growth, as well as a strong learning and development culture.
– good career advancement opportunities;
– a flexible workplace and work environment.
If you are interested kindly send your CV to: alexandra.caragea@david-baias.ro
ABOUT D&B DAVID SI BAIAS
D&B David si Baias is the connected law firm of PricewaterhouseCoopers in Romania ("D&B") and it is integrated within the international network of the connected law firms of PricewaterhouseCoopers ("PwC"), that has more than 3,000 lawyers in 85 jurisdictions. D&B benefits therefore both from in-depth local knowledge and from an international perspective.
On the local market, D&B, together with PwC, work with clients in Romania and Moldavian Republic through the network of 5 PwC offices located in Bucharest, Timisoara, Cluj-Napoca, Constanta and Chisinau.
D&B is recognised and recommended by independent international researchers such as Chambers & Partners, Legal 500, IFLR 1000 and Best Lawyers as top Romanian law firm for Corporate M&A, Competition & Antitrust, Tax and other law areas.
Anunțul este valabil pentru municipiul București.
* Anunțul expiră la data de 1 noiembrie 2022