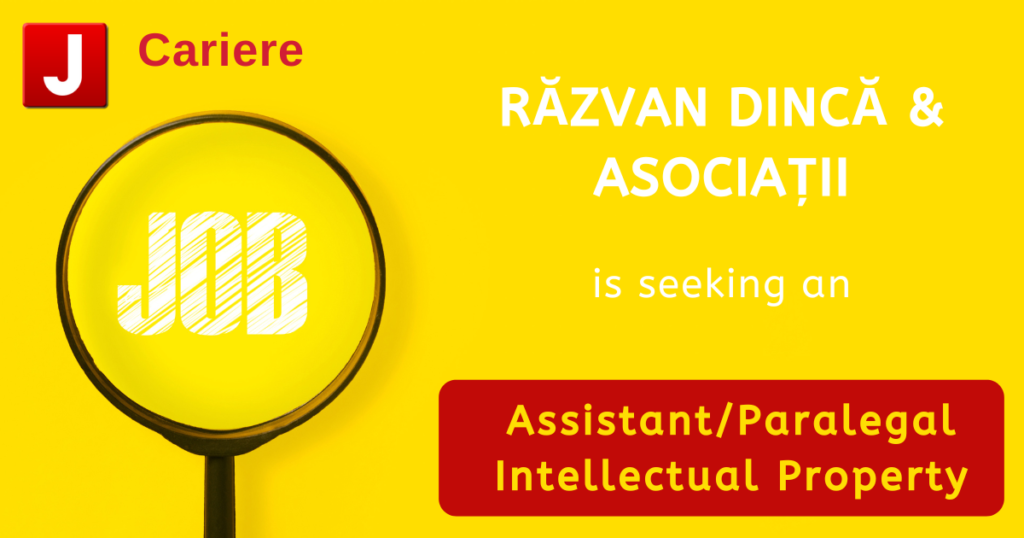 RĂZVAN DINCĂ & ASOCIAȚII is seeking an Assistant/Paralegal | Intellectual Property.
We are currently seeking a full-time IP Assistant/Paralegal in our IP Group. The IP Paralegal will coordinate legal activities for attorneys by performing a variety of secretarial and paralegal level legal duties, including certain practice and docket management responsibilities. A qualified candidate must have significant relevant training and experience and be willing to accept a high level of responsibility. The work requires a highly trained and skilled IP legal assistant knowledgeable with patent, designs and trademark practices.
JOB DUTIES INCLUDE
– prepares, reviews, and electronically files trademark/design/patent documents, prepares information disclosure statements, drafts letters, and monitors status of IP portfolios;
– assists attorney by reading, researching, reviewing, verifying, and routing correspondence, reports and legal documents; drafts letters and documents; monitors docket reports and deadlines; assists with docketing functions as needed; prepares status reports for internal and client use; and performs due diligence activities;
– provides support for litigation activities, including scheduling of couriers, court reporters, expert witnesses, and other special functions; and coordinating preparation of briefs, exhibits, charts, graphs, and other courtroom visuals;
– prepares expense reports and tracking payments;
– maintains attorney calendar by planning and scheduling conferences, teleconferences, dispositions, and travel; recording and monitoring court appearance dates, pleadings, and filing requirements; monitoring evidence-gathering; anticipating changes in litigation or transaction preparation requirements;
– represents attorney by communicating and obtaining information; following-up on delegated assignments; knowing when to act and when to refer matters to attorney;
– recording billable time for certain activities;
– effective and regular maintenance and use of electronic and paper filing and retrieval systems; documenting and maintaining evidence;
– enhances department and organization reputation by accepting ownership for accomplishing new and different requests; exploring opportunities to add value to job accomplishments; working cooperatively with other assistants;
– strong attention to detail is a must;
– work closely with the Accounting Department to assist with billing activities;
– ability to work independently with minimal supervision, set reasonable priorities and manage time and deadline driven workload.
REQUIREMENTS
At least 2 years of experience working within an IP practice group is required. Position requires strong customer service skills with the ability to speak to people at all levels and across offices. The position requires strong written and verbal skills, attention to detail, understanding of intellectual property procedures, and significant experience with Microsoft Office suite.
Interested candidates should submit a cover letter, resume, and salary requirements to hr@razvandinca-legal.ro
Anunțul este valabil pentru municipiul București.
* Anunțul expiră la data de 19 decembrie 2022