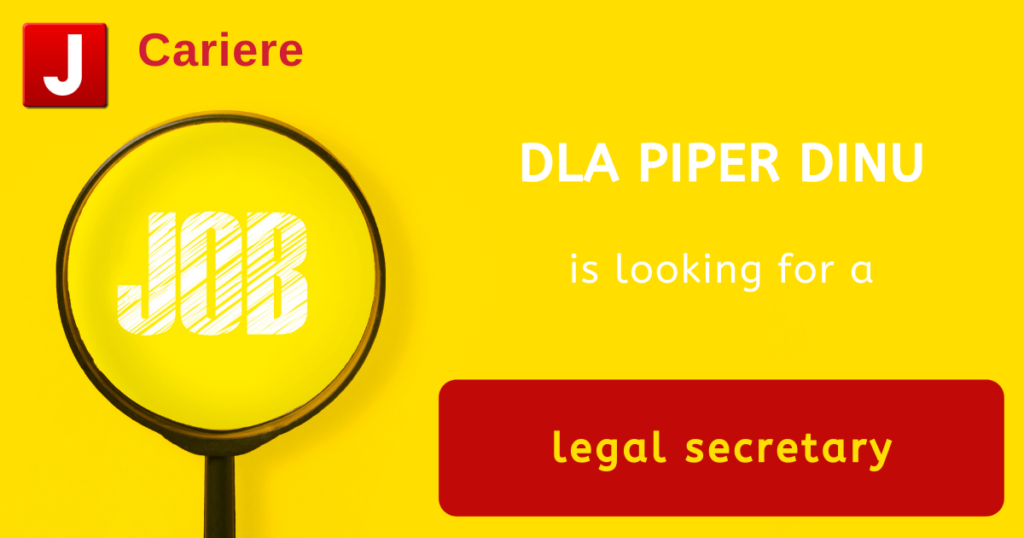 DLA PIPER DINU is currently recruiting an experienced secretary to join our highly qualified, dynamic team in Bucharest. You will be responsible for assisting the lawyers in the management of their day-to-day workload, thus enabling them to focus on providing legal services to clients. You will have the skills, knowledge and attributes to work flexibly within our fast moving and changing environment.
This is a role for a proactive, self-motivated, enthusiastic and a professional individual who thrives on delivering results.
MAIN DUTIES AND RESPONSIBILITIES
– work collaboratively with the rest of the secretarial team to provide comprehensive secretarial and administrative support, taking ownership and ensuring the work is executed in the most efficient and appropriate way;
– ensure interface with people from outside the company;
– proactively manage and maintain fee earner diaries and contacts; coordinate meetings with internal and external clients, ensure all work activities are scheduled effectively;
– deal with external and internal telephone calls and queries in a professional manner and relay messages to the relevant person;
– amend and format documents using the in-house style in all produced documents;
– draft daily correspondence, prepare and produce various materials for conferences, meetings and other events ;
– file management: opening and closing of files, archiving and ensuring that all relevant documents are filed electronically and paper based, when required;
– managing the billing process using the internal financial system. Enter the lawyer time recordings. Create bills, register disbursements, amend narratives, request for inter-office bills, and liaise with international offices where necessary;
– ensure information flow between the firm and external clients as well as between their lawyers and the other firm's departments;
– offer assistance to other colleagues (lawyers or business support staff) when workload is high.
This job description is not designed to be exhaustive and can be varied as required to develop or fulfil this role.
SKILLS AND ATTRIBUTES
– native Romanian speaker, with good command of English (verbal and written);
– proficient in Microsoft Office;
– good verbal and listening communications skills; positive 'can do' attitude;
– strong at prioritising and dealing efficiently with multiple tasks;
– ability to manage a high workload and meet tight deadlines;
– proactive and able to use initiative and work with minimal supervision;
– excellent attention to detail; ability to work quickly and accurately under pressure;
– ability to work co-operatively in a team, sharing information and knowledge;
– experience in working for international companies is nice to have;
– enthusiasm to learn and develop oneself are highly appreciated.
If you are interested in this role, please send your application to https://lnkd.in/dqiDvah2 or to Monica Brusalis, HR Advisor, at: monica.brusalis@dlapiper.com
ABOUT US
DLA Piper is a global law firm with lawyers located in more than 40 countries throughout the Americas, Europe, the Middle East, Africa and Asia Pacific. Our global reach ensures that we can help businesses with their legal needs anywhere in the world. We strive to be the leading global business law firm by delivering quality, service excellence and value to our clients and offering practical and innovative legal solutions to help them succeed. Our clients range from multinational, Global 1000, and Fortune 500 enterprises to emerging companies developing industry-leading technologies, as well as government and public sector bodies.
OUR VALUES
In everything we do connect with our People, our Clients and our Communities, we live by these values:
Be Supportive – we care about others, value diversity and act thoughtfully
Be Collaborative – we give, we share and we join in
Be Bold – we stand tall and challenge ourselves to think big
Be Exceptional – we exceed standards and expectations
Anunțul este valabil pentru municipiul București.
* Anunțul expiră la data de 31 martie 2022